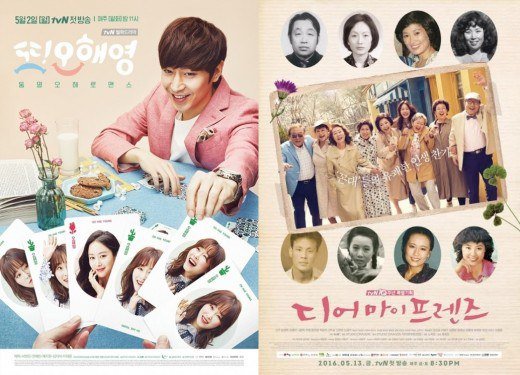 Two tvN dramas are coming to an end and they are"Oh Hae-Young Again"and"Dear My Friends".
"Oh Hae-Young Again"is popular for its romance and mystery elements. It rated over 8%.
"Oh Hae-Young Again"is claimed to have opened a new page for romantic comedies through the leading female character.Seo Hyeon-jinunveiled her innocent image and became a 'straight forward lover' in this drama.
Her sweet and longing love forEric Moonwho is cold on the outside but warm on the inside, gave tears and laughter to the viewers. Her honest and bold image was enough to give catharsis.
There were also unique materials in this drama.Eric Moonhas a gift of seeing the near future. He's had a taste of happiness and misfortune thanks to this. He was able to fall in love withSeo Hyeon-jinand he was able to avoid death at one point.
"Dear My Friends", the story of senior life and romance, didn't really have a comedy code. However, the performance of the cast was enough to bring out sympathy.
Kim Hye-ja,Nah Moon-hee,Yoon Yeo-jeong,Park Won-sook,Ko Doo-simand other veteran actors acted out things that could possibly happen in our lives and made viewers cry with every episode. Hee-ja (Kim Hye-ja) currently has Alzheimer's and Nan-hee (Ko Doo-sim) has cancer.
Coming up next are "Bring It On, Ghost" and"The Good Wife".
Source from :Hancinema