There are many handsome celebrities who are well-known for their cooking skills. Some are even certified chefs who have been taught by famous chefs, while others are casual cooks who prepare delicious meals for their friends and family just for fun.
Check out some of the male stars who heat up the kitchen with their looks and their skills!
1. BTS's Jin
Jin is a worldwide handsome chef in the kitchen of BTS's dorm. Since his debut, he has frequently shared photos of himself cooking, and he also holds live broadcasts of himself eating (entitled "Eat Jin").
From the early days of his career, he has showcased his cooking skills through photos of himself preparing various dishes including steak, fried rice wrapped in an omelet, and stir-fried pork.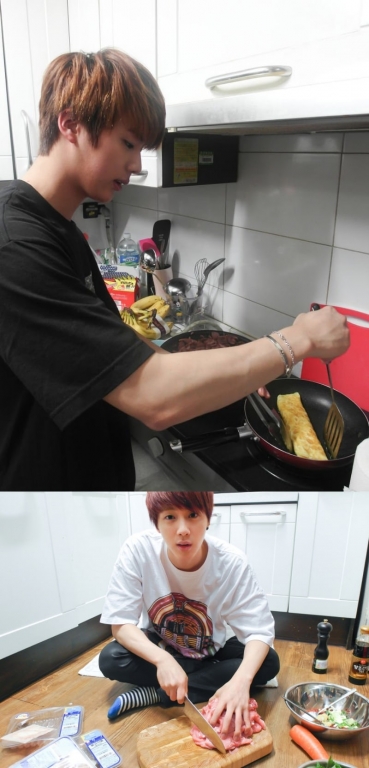 2. Park Bo Gum
Park Bo Gum is not only a talented actor, but also a skilled chef. When he appeared on JTBC's "Hyori's Homestay 2" as a temporary part-time employee, he said in his interview, "I'm good at making fried tofu rice balls and rice cake soup. I can also make coffee and can definitely make rice."
During his stint on the reality show, Park Bo Gum showcased his skills by cooking rice cake soup for the cast and guests.
3. g.o.d's Yoon Kye Sang
Yoon Kye Sang has outstanding cooking skills and frequently cooks for his girlfriend Honey Lee.
In the past, he put his skills on display as the host of "Yoon Kye Sang's One Table," where he whipped up difficult recipes. Famous for being a foodie, he's also known to take cooking classes with his older sister.
4. Lee Seung Gi
On a past episode of KBS 2TV's "2 Days & 1 Night," Lee Seung Gi was criticized by his fellow cast members for his awful cooking. However, the singer-actor has honed his skills since then. After learning how to cook Korean, Japanese, and Chinese cuisine, he even went on to take baking classes. His skills have improved so much that he now invites people to his home to serve them some of his dishes.
Lee Seung Gi also appeared on tvN's "Three Meals a Day," where he impressed everyone by cooking mushroom radish rice and spicy codfish stew.
5. Kim Min Suk
Actor Kim Min Suk, who used to work as a chef, has cooking certifications for Korean, Japanese, and Chinese cuisine. During a past appearance on MBC's "Radio Star," he filleted raw fish and prepared sashimi for the cast.
6. Henry
Henry is another male celebrity that is talented both in and out of the kitchen. He previously entered "Master Chef Korea Celebrity" together with Miss A's Fei, where he was acknowledged for his cooking skills.
In order to prepare for his film "Final Recipe," Henry received private cooking lessons from the head chef at a Thai hotel, as well as chef Lee Yeon Bok. Henry has also shown off his culinary skills on MBC's "I Live Alone."
Check out the latest episode of "I Live Alone" below!